Every year a three-day event in Dun Laoghaire, Co Dublin, focuses on aspects of the life and times of  Irish human rights hero Roger Casement. However due to Covid-19 concerns our full school has been postponed to early 2021.

Instead in 2020 the main Roger Casement Commemoration will take place outside his birthplace in Sandycove, Co Dublin, on Bank Holiday Monday.
Monday August 3rd 2020 at 7.30pm. Social distancing will be observed! New Cathaoirleach Una Power will introduce the event. Other speakers to be announced.
Address: 29 Sandycove Road, Sandycove.
Nearest transport: Sandycove/Glasthule Dart station or number 7d, 59 or 111 bus.
This is a free event.
"Self government is our right, a thing born to us at birth, a thing no more to be doled out to us by another people than the right to life itself, than the right to feel the sun or smell the flowers or to love our kind."
Roger Casement was born at 29 Sandycove Road in County Dublin on September 1st, 1864. As a child he lived in England for some years, but later attended school at Ballymena in Co. Antrim. Casement worked for the British Foreign Office as a diplomat and matured into a humanitarian activist, poet and Easter Rising leader. Described as the "father of twentieth-century human rights investigations", he was honoured by the British state in 1905 for the Casement Report on the Congo, and knighted in 1911 for his revelations of human rights abuses in Peru.

Casement grew to distrust imperialism. After retiring from consular service in 1913, he became more involved with Irish republicanism and other separatist movements. During World War 1 he made efforts to gain German military aid for the 1916 Easter Rising that sought to gain Irish independence. He was arrested on Banna Strand, Kerry, while trying to land a shipment of arms in April 1916. He was stripped of his knighthood, convicted, and executed for high treason at Pentonville Prison on August 3rd, 1916.

For further information see our Contact page here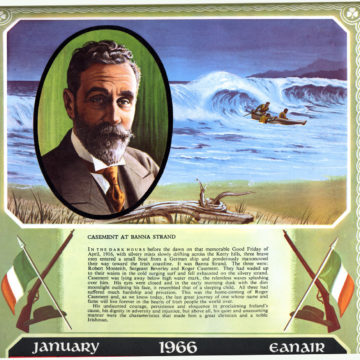 An exhibition about Roger Casement has been in place at the National Museum of Ireland for the past 18 months. In 2019, Lexicon/Dun Laoghaire Library held a highly successful exhibition on its upper level.